donate-ng crowdfunding portal soft launched in November 2015 and we were able to successfully host 4 social crowd funding initiatives raising almost half a million naira (₦ 468,850.00).
Social crowdfunding is not new to Nigeria and Nigerians, there have been various ways in which individuals and communities alike have had to solicit for funds for one cause or the other. This ranges from little booklets from primary and secondary school students to rags days by university students. Equally, a lot of people raised funds for family and friends requesting people to pay into an advertised bank account. But all these come with its challenges. Examples are;
No confirmation of the purpose of fundraising. i.e. no due diligence to ensure the cause or project is legitimate.
No visibility during the course of the fundraising.
No visibility on final amount raised; if target was made or otherwise.
No feedback on success or failure of the fundraised or the project/cause.
However, with technology these challenges and many more have been surmounted. With internet based crowdfunding, you get a lot of visibility, privacy and a farther reach to promote your ideas for funding by the crowd.
In the month of November, 4 projects/causes were created by 1 charity and 3 individuals soliciting for funds from the crowd. These projects are: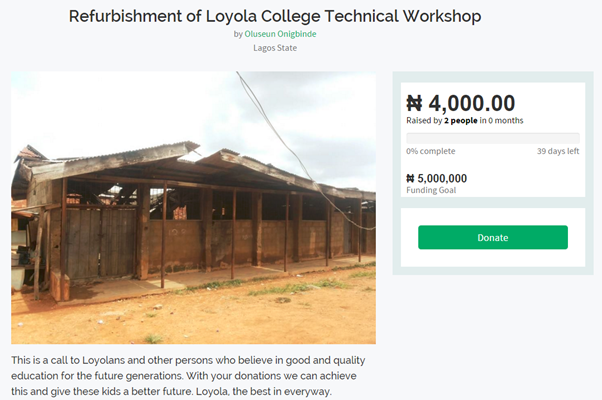 This success so far has shown Nigerian have the will to change their community and lives around them which is the major ethos of donate-ng.
We would like to encourage more Nigerian, to look no further for the social crowdfunding platform. Once you birth the idea, all you have to do is register on www.donate-ng.com and you are on your way to successfully achieving your dreams of making a change in that life and in that community.
We also encourage everyone with the ability to make an impact in someone's life by giving to Charity and social cause on the www.donate-ng.com platform.