Recently I was reading a fantastic book about giving and I got fascinated by the word Ubuntu. Before now, the Linux operating systems for computers was all I thought the word represents. I learnt that in reality, Ubuntu is an ancient South African word for "humanity". It is also defined as "I am what I am because of who we all are". It demonstrates the art of giving, sharing and wealth redistribution, in which the well-being of all takes precedence over the prosperity of a few.
Giving is an art which synonymous with all African cultures. From Egypt to Namibia to Mauritania to Cameroon and to Nigeria. We are a giving people, and we give without expecting anything in return. We are a people that believes that by helping a fellow man you are actually helping yourself and the world get better. By giving we make things happen.
In Nigeria, donate-ng have been at the forefront of providing a platform to bring people in need closer to donors worldwide. We have been able to take the art of giving to a whole new level with the advent and penetration of internet. Donate-ng has picked the attention of Nigerians at home and in the diaspora rallied them to pull their little resources together to make a large pool of donations that has been utilized judiciously across the country. These donations have helped to saved many lives, put smiles on faces and assisted so many achieve their dreams.
Since 2016, your donations have provided support for the blind, helped provide prosthetic limbs to amputated children and also provided immeasurable and much needed succor to internally displaced people all over the country.
Your giving has assisted victims of violence and social injustices put smiles on their faces, while the sick who cannot pay their medical bills got reprieve. Many children got back to schools with learning materials provided and Schools were rehabilitated.
As we continue in this wonderful journey, there is much more we can achieve together by continuing with the art of giving. There are many more children to help send to school, many more Schools to build and rehabilitate. There are more sick people that cannot afford treatment, while we still have orphaned children out on the streets homeless, clothe-less, sick and hungry. We still have a lot of internally displaced people's lives to save and lot more faces that need smiles.
Thank you for joining us on this journey to a much better world. Please visit www.donate-ng.com and support any cause to support.
Here are just a few:
The Charity 2020- PRISON VISITATION
The Executives Helping Initiative Lagos State are raising 340,000 NGN to help cover the legal fees of inmates who have been in prison while awaiting trial for years. Some of whom have been there longer than the time they would have served if found guilty.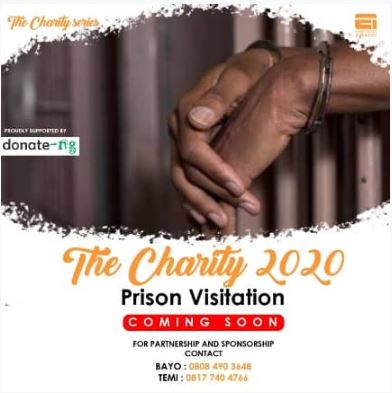 We urge you to donate and help get people their long denied freedom.
Please click HERE to donate.
ROOF ABANDONED EGBELE PRIMARY SCHOOL
When Omozokpea Favour was leaving her village 13 years ago, Egbele primary school had classrooms that was being built. This was supposed to provide a modern and conducive learning environment for the students.
13 years after the project is abandoned and is the building is now in danger of collapsing at the same time the student do not have any classrooms for learning. Favour is determined to see this project to completion. She wants to raise 1 million Naira to help complete the building.
Please click HERE to help her realize her dream.
FREE TREATMENT FOR SICKLE CELL LEG ULCER
The Sickle Cell Foundation Nigeria is seeking 2 Million Naira to help them provide free treatment for 10 sufferers who have severe leg Ulcer.
Leg ulcers are the most debilitating and stigmatizing complication of sickle cell disease can remain unhealed for years. Very painful, they render patients incapacitated, confined indoors and preclude them from leading normal, productive lives.

Please click HERE to donate.